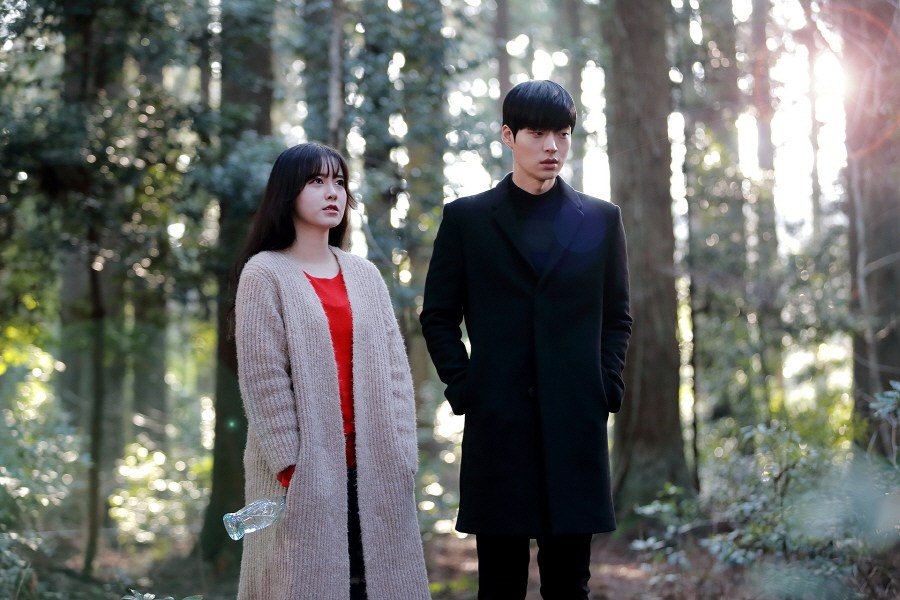 لا شيء أفضل من الرومانسية المثالية التي يمكن العثور عليها من خلال سحر الدراما الكورية. بينما استمتعنا من رؤية اثنين من الأزواج على الشاشة منغمسين في مشاعر الفراشة الخاصة بهم ، ونحن لم نكن نريد ان تنتهي هذه المشاعر !
لحسن الحظ بالنسبة لقلة منهم بعض من هؤلاء الثنائيات قد اصبحوا ثنائي في الحياة الواقعية ، هؤلاء ١٣ ثنائي الذين تجاوزوا شاشة التلفاز وجعلوا الحب حقيقة واقعة – سواء قد استمر هذا الحب او لا.
١. لي تشونغ اه و لي كي وو 
في اول لقاء لهم في دراما 'Flower Boy Ramen Shop' عام ٢٠١١ ، الممثل لي كي وو جعل الحلم حقيقة بوضع خاتم الثنائي للممثلة في ٢٠١٣! ان مشاعره الحقيقة ستجعل اي شخص يشعر بفقدان وعيه حيث كشف في مُقابلة مع 'taxi' ، " انا اعيش في نفس حي لي تشونغ اه في البداية عندما قالت لي تشونغ اه ، 'دعنا نجتمع في وقت ما في الحي' فسرت ذلك كما لو انه ايماءة بأنها مهتمة بي. لأنه كانت لدي مشاعر بالفعل نحوها."
٢. قو هي سن & اهن جاي هيون 
الآخبار ضجت في الآونة الأخيرة منذ كشف ان نجما دراما 'blood' قو هاي سن و اهن جاي هيون يتواعدان منذُ اكثر من عام ! من الاضح ان الكيمياء قد استمرت على الشاشة اكثر واكثر والمزيد من الأخبار كانت تحلق بين هذين الأثنين – وخاصة بعد مشهد قبلتهم في الدراما قد استمرت اكثر من ٣ ساعات !
٣. بارك هانبيول & جونغ وو 
بارك هانبيول و المغني سيڤين كانا في  علاقة معروفة لأكثر من ١٢ عاما قبل ان ينفصلا في أوائل عام ٢٠١٤، و الذي جمع الإثنان هي دراما 'One Well-Raised Daughter' وتلقت النجاح في التقيمات والحُب وبدأ الإثنان في المواعدة في العام نفسه. على الرغم من انها بدت كما لو انها ستكون قوية ، الا انهما بشكل مؤسف قد انفصلا في نهاية المطاف.
٤. جي هيون & يو ان نا
الإثنان كان لهما اتصال ديناميكي من خلال قصة حب عبر الزمن لـ 'Queen In Hyun's Man.' ، جي هيون الذي قام بالخطوة الأولى وسأل النجمة يو ان نا في عام ٢٠١٢. ومع ذلك بعد ان اعلنوا عن علاقتهم للعامة ، اعلن جي هيون عن رحيله من اجل الخدمة الإلزامية (٢١ شهرا) والإثنان قد انفصلا بعد انتهائه من الخدمة في مايو ٢٠١٤. والكثير يتوقع ان بعد المسافة وعدم قدرتهم رؤية بعضهم البعض ادت إلى انفصالهم.
٥. لي مينهو & بارك مين يونغ 
في بداية عام ٢٠١١ ظهرت تقارير انه لي مينهو و بارك مين يونغ في علاقة معا و ذكرت الأنباء بسبب تصويرهم معا في دراما 'City Hunter' قد نمت علاقة في ما بينهم ولكن للأسف بعد عام فقط قد انفصلا بسبب جداولهم المزدحمة.
٦. جي سونغ & لي بويونغ
الثنائي اللطيف لي بويونغ و جي سونغ وجدا الحُب بعد تصويرهم دراما 'Save The Last Dance For Me' معا. قد التقيا في عام ٢٠٠٤ و بدءا المواعدة في عام ٢٠٠٧ وبعدها بفترة قد تزوجا في سيبتمبر عام ٢٠١٤ ! صور زواجهم كان مثل الحلم وكانت مشعة مثل دراما رومانسية و مؤخرا قد رحبا بطفلهم الأول ! 
٧. Eugene & كي تاي يونغ 
ربما هذه واحدة من اسعد وانجح ثنائي من الدراما يتحولان إلى واقع هنا، Eugene و كي تاي يونغ قد اظهرا شرارة الإتصال من خلال دراما 'Creating Destiny.' وقد تزوجا في يوليو ٢٠١١، بالإضافة إلى ذلك لديهم طفلة ايضا ! 
٨. لي تشون هي & جون هاي جين 
التقى كل من لي تشون هي وجون هاي جين خلال تصويرهما لدراما 'Smile' في عام ٢٠٠٩ ! تزوجا في عام ٢٠١١ وعلى الرغم من فارق العمر (٩سنوات) بينهما الا انهما على علاقة عظيمة ، شهر عسلهما كان في هاواي وهي انجبت منه طفلة جميلة في يوليو ٢٠١١. *اتوقع في خطأ في السنة كيف تزوجوا في نفس السنة ويابت طفله منه !*
٩. كيم بوم & مون قيون يونغ 
بدأت العلاقة بينهم بعد تصويرهم معا دراما 'Goddess of Fire' ، وكانت علاقة قصيرة حيث انفصل الإثنان في مايو ٢٠١٤ بعد مواعدتهم إلى ما يزيد عن عام.
١٠. هان قا ان & يون جونغ هون 
الممثلين من 'Yellow Handkerchief' اثبتا ان الحب يأتي بشكل غير متوقع حقا ! بعد مواعدتهم بعض الوقت وهما في جنون الحُب وسريعا ما تزوجا في ٢٠٠٥ و الآن يعتبران اكثر المشاهيرة قوة في كوريا.
١١. اون جو وان & جو بو اه 
بعد عملهما معا في دراما 'Surplus Princess' اصبحا معا  في السنة نفسها ! عصفوري الحُب معا من اكثر من سنة. وانفصلا بعدها !
١٢. هيون بين & سونغ هي كيو 
دراما 'The World That They Live In'  اثارت الرومانسية خلف الكواليس بين هيون بين و سونغ هاي كيو وبدءا في المواعدة في يونيو ٢٠٠٩. للأسف الثنائي قد انفصلا بعد مواعدة دامت سنتين في عام ٢٠١١. 
١٣. جونغ وو سونغ & لي جي اه 
بعد تصويرهم لـ  'Athena.' معا بدءا المواعدة في ٢٠١٠ و قد غادرا لباريس في رحلة رومانسية معا. ومع ذلك في ابريل ٢٠١١. الإثنان انفصلا بعد الدعوة القضائية زوج لي جي اه السابق سيو تاي جي لتقسيم الممتلكات في ما بينهم.